Pricing/Finance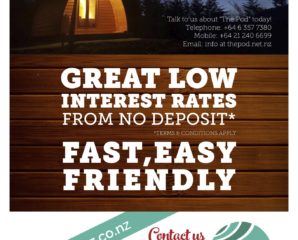 The Standard Pod with double-glazing, full insulation, 240v power , decking panel and carpet square is $20000 plus .gst. and standard delivery (north island)
The Family Pod with the same specs as above but 40% more internal volume is $25,000 plus.gst and standard delivery (north island)
The Megapod now available, 15 square metre , floor area prices start at $32,000 inc. gst
With facilities $42000 plus . gst
Now offering finance through TMF finance , see ad this page OR CLICK ONwww.tmfnz.co.nz
Standard delivery is subject to your site having access for our flat deck trailer. For South Island and crane truck/helicopter access pricing please give us a call or drop an email
Please contact us for specific prices as we have various fitting options including different sized and a circular window for the rear bulkhead, lighting choices , 12v power options, roller blinds for doors and windows etc.
Delivery prices vary with distance. Contact us for your region.
We will discount for numbers , and work out deals on transport for longer distances.
The Family Pod tends to be the main choice in Europe for campgrounds, but the standard Pod is also offered for 2 person accomodation or as a workshop, sleepout or therapy room.
Currently the standard pods are consent free due to size, the family pod is consent free under most councils on residential sections with a dwelling.
If you wish to connect potable water or sanitation you will require a consent.
Please contact your local council regarding their regulations as they vary greatly from council to council.
The Pod is on three H5 treated skids, so requires no specific site foundation.
They can be placed on grass , gravel or concrete, a level site works best for the deck panels to sit correctly.
We deliver all over the country.